By Tracy Warrener Van Kruistum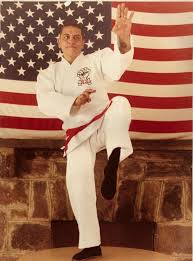 A renaissance man of the Martial arts, Sensei Peter Urban, was born in New Jersey in 1934. He served in the United State Navy during WWII as an Intelligence officer. While stationed over seas in Japan, he was introduced to the Martial Arts.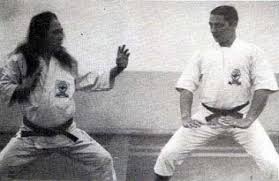 Urban began training under Richard Kim while in Japan. When he was transferred, Kim introduced him to the legendary Gogen Yamaguichi, head of the Japanese Goju Ryu. Urban was one of only a few 'white' men to study under Yamaguichi. Sensei Urban also trained under Masutatsu Oyama. Upon returning back to the United States in 1959, he opened up his first Urban Goju Ryu Dojo in New Jersey.
Peter Urban had the kind of charisma that soon helped to build him quite the student base. His unique teaching style, incredible intelligence and his dedication to the art of Karate Do, made him one of the innovators in American Karate. He founded the U.S.A. Goju Association which is still in operation today with thousands of members. Sensei Peter Urban became an international instructor of Karate, teaching many seminars in other countries earning him more recognition.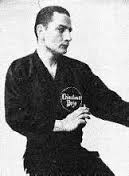 His often wise stories, deep in philosophy and psychology were always a welcomed thing among his students. Sensei Urban was also the author of several books including " The Karate Dojo" and"The Karate Sensei". Sensei always had a story to tell, or a lesson to teach you. He made you think outside of the box and challenged you at the same time.
Even after his death in 2004, Sensei Urban's teachings and influences have left a remarkable legacy for American and Non American Martial Artists.
Tracy Warrener has been fortunate to have been raised within the Martial Arts since the age of 4 years old and is a 4th Degree Black Belt in Goju Ryu Karate.She has had the opportunity to study with some amazing Martial Artists.Sensei Richard Kim, Sensei Peter Urban, Professor Don Jacob, Sensei Jim Wilson, Professor Wally Jay, just to name several. Of course her main Sensei is her father, Sensei Don Warrener.Throughout the 40 plus years of her involvement in the Martial Arts, she has worked her way from being a student of the martial arts to a Martial Arts Sensei ,teaching hundreds of students.She has ran and managed martial arts schools teaching students of all ages, worked within the community teaching at fitness centres, schools, businesses and Women's Shelters, the benefits of Karate. One the causes close to her heart is teaching and empowering young girls and women the importance of self defence and awareness.Her program called Look Strong! Act Strong! Be Strong! focuses on easy self defence techniques and mind self defence techniques.In 2013 she was awarded The Silver Lifetime Achievement Award in the Masters of the Martial Arts Hall of Fame in California for her contribution to Women in the Martial Arts.She is also aCertified Reflexologist and Reiki Master. She has starred in three of her own DVDs produced by Rising Sun Productions on Reiki, Reflexology and her Look Strong ,Act Strong ,Be Strong Self Defence Program.tracy.warrenerentertainment@gmail.com