There is something mysterious about Ninjas. Perhaps its their dark, unique looking clothing their fantastic martial arts skills, or the way they were known to sneak up on their unsuspecting targets. Ninja, or Shinobi as they were also referred to as, have long been the sense of motivation for some to learn more about the martial arts, learn about Japanese history and the Ninja's role in secret military operations.

It is difficult to pin point an actual date of when the era of the Ninja actually started, as much of their activity was kept very secretive. However, they are thought to be active within the 14th century as there have been stories which have been passed down talking about such specialized warriors. They were usually of the lower class in Japan and were actually raised and groomed in the lifestyle of the Ninja. There were actual Ninja villages in which the art of Ninjutsu was passed down from father to son, and or master to pupil. Ninja schools actually existed and this is where there training took place. Ninjas were basically hired secret spies and assassins. They were not afraid to get their hands dirty to carry out a needed task, and were known for their very unique skills. Usually hired by Lords and other types of royalty, or people of prestige, Ninjas were often hired to gather top secret information during war time, and were also hired to carry out assassinations on targets that were needed to be eliminated.
Their training was very intense. Taught from a young age, they became experts in martial arts, weaponry , acrobatics, uncover work, espionage. They often dressed all in black, carried a samurai sword as well as other tools and weapons to help carry out whatever task it was they needed to do. Ninja's were explosive experts, poison makers and even carried pistols. Other knowledge that they were proficient in were map reading, reading and writing, and developed and used listening devices to aid in their surveillance. They were also trained very well in not being seen, or heard. It is even said that some possessed certain magical qualities and could transform themselves into animals and birds in order to disguise themselves. Ninja often worked as a team and many of their plans revolved around working together to carry out the task.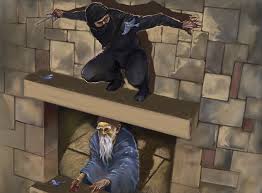 Though some Ninja did have roots within Samurai families, Ninja's were different. They followed a different code of ethics than the Samurai. This was one of the reasons why they were chosen. Many Lords and people in power who did have their own Samurai warriors, did not want to disrespect their honour by asking them to carry out some of the tasks needed to be done during wartime. Ninjas were the perfect choice. The Samurai knew to respect these decisions and were fully aware of these secretive warriors and their abilities.
Though it is difficult to say that real Ninjas such as the ones of the past still exist today, many believe they do. They may not dress all in black, carry ninja stars and other associated ninja weapons, but they are more of a modern day style spy. Like all countries, highly skilled spies exist. There are groups around the world from different countries trained in gathering information, intelligence, highly trained fighters in both martial arts and weaponry and are also hired to carry out assassinations on behalf of figure heads who need these tasks done for national security reasons and military reasons. So I guess Ninja's may still exist in the world when you look at from this perspective. There are many Ninjutsu schools around the world which still practise some of the martial arts and skill set of the Ninja from long ago. However many believe these people do it for the art and exercise. Whether or not Ninjas exist like they did 400-500 years ago, is unclear. One thing is for sure their allure, mystery and legacy live on.
Tracy Warrener has been fortunate to have been raised within the Martial Arts since the age of 4 years old and is a 4th Degree Black Belt in Goju Ryu Karate. She has had the opportunity to study with some amazing Martial Artists. Sensei Richard Kim, Sensei Peter Urban, Professor Don Jacob, Sensei Jim Wilson, Professor Wally Jay, just to name several. Of course her main Sensei is her father, Sensei Don Warrener. Throughout the 40 plus years of her involvement in the Martial Arts, she has worked her way from being a student of the martial arts to a Martial Arts Sensei ,teaching hundreds of students. She has ran and managed martial arts schools teaching students of all ages, worked within the community teaching at fitness centres, schools, businesses and Women's Shelters, the benefits of Karate. One the causes close to her heart is teaching and empowering young girls and women the importance of self defence and awareness. Her program called Look Strong! Act Strong! Be Strong! focuses on easy self defence techniques and mind self defence techniques. In 2013 she was awarded The Silver Lifetime Achievement Award in the Masters of the Martial Arts Hall of Fame in California for her contribution to Women in the Martial Arts. She is also a Certified Reflexologist and Reiki Master. She has starred in three of her own DVDs produced by Rising Sun Productions on Reiki, Reflexology and her Look Strong ,Act Strong ,Be Strong Self Defence Program. tracy.warrenerentertainment@gmail.com
http://www.warrenerentertainment.com/ninja-ad-1460-1650/
http://www.warrenerentertainment.com/koga-ryu-ninj...
http://www.warrenerentertainment.com/shinobi-winds...