The Best Age to Start Karate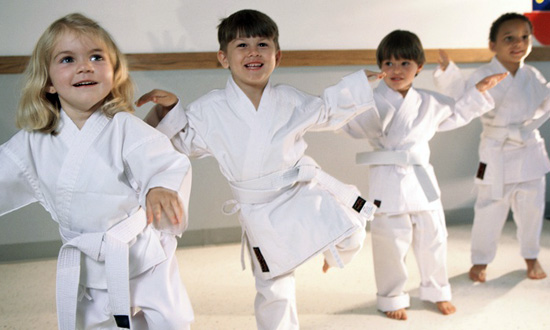 A common question Karate Instructors are often asked is, "what is the right age to start Karate? " This is often asked by parents who are seeking to find the right activity for their child. Now a days many children in most Martial Arts start around 3 years of age. However, this depends on the child and the school. The benefits of starting at such a young age are many. For example, it helps a child to develop their balance, motor skills, concentration, listening skills, hand -eye coordination, basic self defence skills and understanding mind self defence as well. When children start their training at an early age, it helps them to develop self confidence, overcome shyness and ability to work well with others.
Of course not everyone starts their Martial Arts journey at such young ages. The average age most kids start is around 6 yrs old. This however is changing and more often kids are now beginning at the younger ages. Some schools even offer a Tot program which introduces a program for a parent and a tot (1-2years old) to join in a special movement class. These classes are often more informally based and are geared to help teach the child general movement , hand- eye skills with some martial arts techniques. These classes are often used as a pre-curser to the 3- 5 year old regular karate class. It gets tots comfortable with groups while enjoying playing through movement.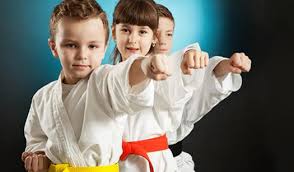 Some of us find the urge to begin our Karate training later on. Whether it is as a youth, young adult, middle aged or even someone in more mature years, Karate can be beneficial at any age. The benefits of fitness, balance, coordination, flexibility, self defence, confidence, memory training are all huge reasons why starting Karate at any age is the right age. Karate is one of the Martial Arts which is the easiest to adapt to at any age. It is practised by young and old all over the world. Starting your training younger will train your body, muscle memory, flexibility just to name a few reasons. These benefits will increase with training and as we age. As with most activities, starting at an older age can be a little more challenging- but not impossible. By listening to your body, taking it a comfortable pace and enjoying the process of learning this wonderful art, even the most senior of students will reap the benefits.
The 'Right' age to start your Karate training is a personal one. The benefits at all ages have already been established. Whatever age you decide to start, know that you are embarking on a wonderful and life changing experience. Karate will teach you so much about yourself and others, learn how to protect yourself, improve your physical fitness and gain life long lessons in the process. That is why starting at any age is the right age.
Tracy Warrener has been fortunate to have been raised within the Martial Arts since the age of 4 years old and is a 4th Degree Black Belt in Goju Ryu Karate. She has had the opportunity to study with some amazing Martial Artists. Sensei Richard Kim, Sensei Peter Urban, Professor Don Jacob, Sensei Jim Wilson, Professor Wally Jay, just to name several. Of course her main Sensei is her father, Sensei Don Warrener. Throughout the 40 plus years of her involvement in the Martial Arts, she has worked her way from being a student of the martial arts to a Martial Arts Sensei ,teaching hundreds of students. She has ran and managed martial arts schools teaching students of all ages, worked within the community teaching at fitness centres, schools, businesses and Women's Shelters, the benefits of Karate. One the causes close to her heart is teaching and empowering young girls and women the importance of self defence and awareness. Her program called Look Strong! Act Strong! Be Strong! focuses on easy self defence techniques and mind self defence techniques. In 2013 she was awarded The Silver Lifetime Achievement Award in the Masters of the Martial Arts Hall of Fame in California for her contribution to Women in the Martial Arts. She is also a Certified Reflexologist and Reiki Master. She has starred in three of her own DVDs produced by Rising Sun Productions on Reiki, Reflexology and her Look Strong ,Act Strong ,Be Strong Self Defence Program. tracy.warrenerentertainment@gmail.com
http://www.warrenerentertainment.com/karate-for-ki...
http://www.warrenerentertainment.com/super-karate-...
---